Gooi volgende keer as julle braai 'n paar van hierdie sosaties op die rooster. Sag, sappig en mondwaterlekker!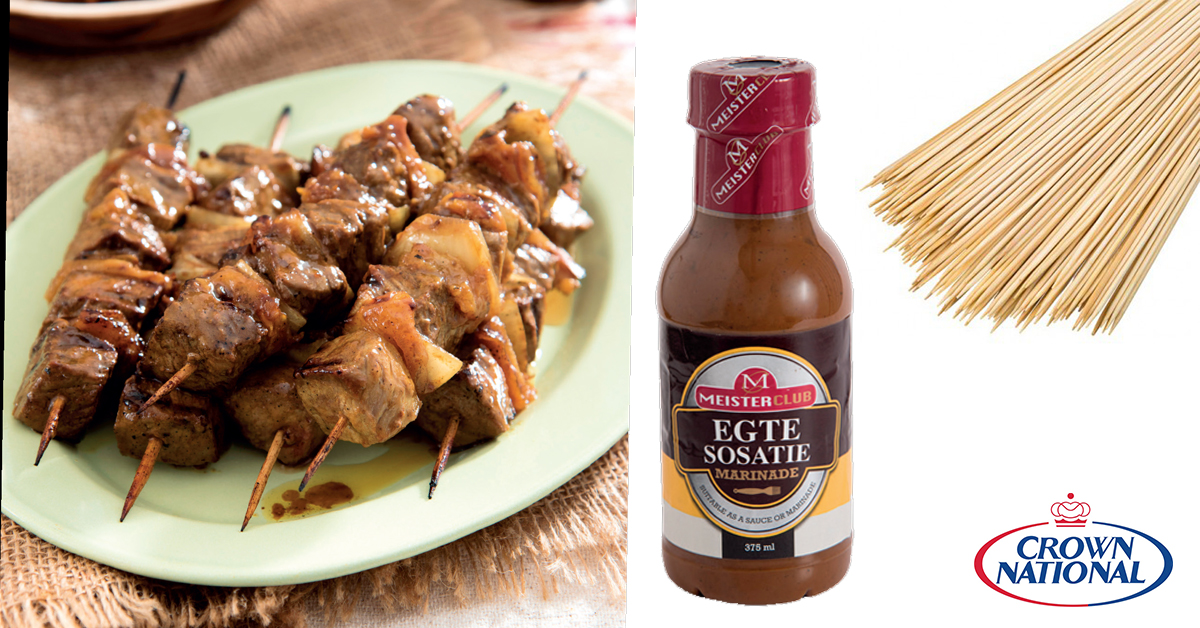 Springboksosaties
■ 1,2 kg springbokboudvleis, in hapgrootte blokkies gesny
■ Paar druppels vars suurlemoensap
■ 250 ml Meisterclub Egte Sosatie Marinade
■ 1 groot ui, in kwarte gesny en lagies losgemaak
■ 10-12 droëpere, in kwarte gesny
■ Kookwater
Pak die vleisblokkies in 'n enkellaag in 'n niemetaalbak en sprinkel 'n klein bietjie vars suurlemoensap egalig oor die vleis.
Gooi die Meisterclub Egte Sosatie Marinade bo-oor en meng dit goed deur met jou hande sodat elke vleisblokkie met 'n lagie marinade bedek is.
Bedek met kleefplastiek en verkoel minstens 4 uur lank, maar verkieslik oornag.
Haal die vleisblokkies uit die yskas en laat dit staan tot dit kamertemperatuur bereik het.
Gooi intussen die stukkies ui en gesnyde droëpere in 'n bak en bedek met kookwater.
Laat staan vir sowat 20 minute (ongeveer die tyd wat dit gaan duur vir die vleis om die regte temperatuur te bereik).
Ryg die gemarineerde vleisblokkies op sosatiestokkies, afgewissel met stukkies ui en stukkies droëpere.
Verf elke sosatie met van die Meisterclub Egte Sosatie Marinade wat in die vleisbak oorgebly het.
Braai die sosaties oor die kole of in 'n warm riffelpan (of oondrooster dit) tot gaar na jou smaak.
Geur liggies met 'n klein bietjie sout terwyl jy braai.
Verf met nog 'n bietjie van die Meisterclub Egte Sosatie Marinade terwyl jy dit braai of rooster, indien verkies.
Sit die sosaties warm voor met roosterkoek en slaai.
Lewer 6-8 porsies.