A fresh, piney, low-cost solution to soooo many cleaning afflictions.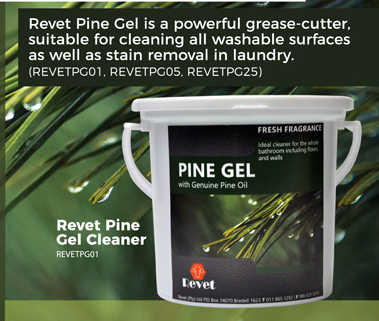 Home Uses:
Revet Pine Gel can be used on any surface that requires cleaning and disinfecting e.g. walls, floors, tiles and bathrooms, dissolving soap scum, ground-in dirt and grime without producing excessive foam, therefore, easy to rinse off after cleaning. It deodorises while it cleans leaving your home sparkling clean and filled with a fresh pine fragrance.
Instructions:
* Dilute 100ml with 10L cold water for floors, baths, tiles, walls, table tops, melamine, acrylic basins, plastics, stainless steel, upholstery, carpets, and cars.
* Dilute 2 tablespoon with 2L water for very oily surfaces.
* Use undiluted for spot cleaning on clothes, carpets, stoves and pots.
*Always remember to rinse after cleaning.
Laundry uses:
Effortlessly remove stains on clothing, fabric and upholstery.
*Add 10ml with your normal washing.
*Stain Removal: 
Add 50-100ml to 5L warm water. Allow to dissolve. Add laundry and allow to soak.
Rinse and add garment to washing machine and wash with Revet BIO ACTIVE detergent (REVETBIO25)
*Tough stains:  
Apply directly on stains, leave for a few minutes to soak before transferring to washing machine.
Tips to Remember:
✔ Deal with the stain when it is fresh
✔ Always follow washing instructions on garment or fabric label.
✔ Check for colour fastness by testing a hidden area of the fabric. Rinse & allow to dry.
✔Always use the mildest method first before trying the undiluted. (See package label for details)
✔ For best results pre-treat stains first preferably overnight.
✔Rinse thoroughly
✔ For very tough stains, it may be required to repeat the process.
Uncommon Uses:
Repel pests:-
No fly, insect or bug likes the smell of pine.
Mix a 50-50 solution of Revet Pine Gel and water.
Spray your garbage bins with it before inserting your refuse bag.
Pet Urinating Deterrent:-
Few things are as frustrating as when your four-legged friend starts doing his business in the house!
Unlike many household cleaners, it doesn't contain ammonia.
Since urine contains ammonia Pets like to pee on ammonia-cleaned surfaces.
Clean the area that they urinated on with 1 tbsp of Revet Pine Gel diluted in 1L water.
Pregnancy Test:-
There's an internet rumour floating around saying that Pine Gel can be used as a pregnancy test.
Your pee supposedly makes the Pine Gel change colour.
Of course, no measurements, or even the final colour for pregnant versus non-pregnant are given.
Sounds specious to me, but if you're bored, why not?
Advantages of Pine Gel:
Very Economic
Cleans
Deodorises
Kills Germs
Buffs to a high shine
Environmentally friendly
Products mentioned in this article:-
REVETPG01                        -              Revet Cleaner Pine Gel
REVETMULTI01                 -              Revet Bottle Spray Multi Purpose Empty
REVETMULTI01                 -              Revet Bottle Spray Multi Purpose Empty
BUZZ1089                           -              Buzz Trading Bucket no Lid (ideal for Mop)
BUZZ1043                           -              Buzz Trading Mop Buzz
AGGRHHLL                         -              Skudo Gloves Household Yellow Snow Lotus
CT8102BLK                         -              Refuse Bin on Wheels 240L
DPREFBAG240L                 -              Refuse bags for 240L bin (45 micron)
Disclaimer
The information contained in this document is given in good faith and is meant to be used as a guideline by the specifier or user. There is no guarantee of specific results and each person's results may vary. Whilst we are confident about the quality of our products, we cannot accept any liability for the incorrect use or application of our products.