The ultimate delicacy!
Of course the best option is to grill the lamb chops on a char-coal barbecue, to get them all crispy and smokey. However they also work great on a grill pan or in the oven, if you don't have the time or space for a proper "braai". Cooking time varies greatly, mostly depending on how well done you like your meat.
Seasoned with CROWN NATIONAL GREEK SPICE, olive oil, salt, fresh ground pepper and finished with a last minute squeeze of lemon. Simply delicious!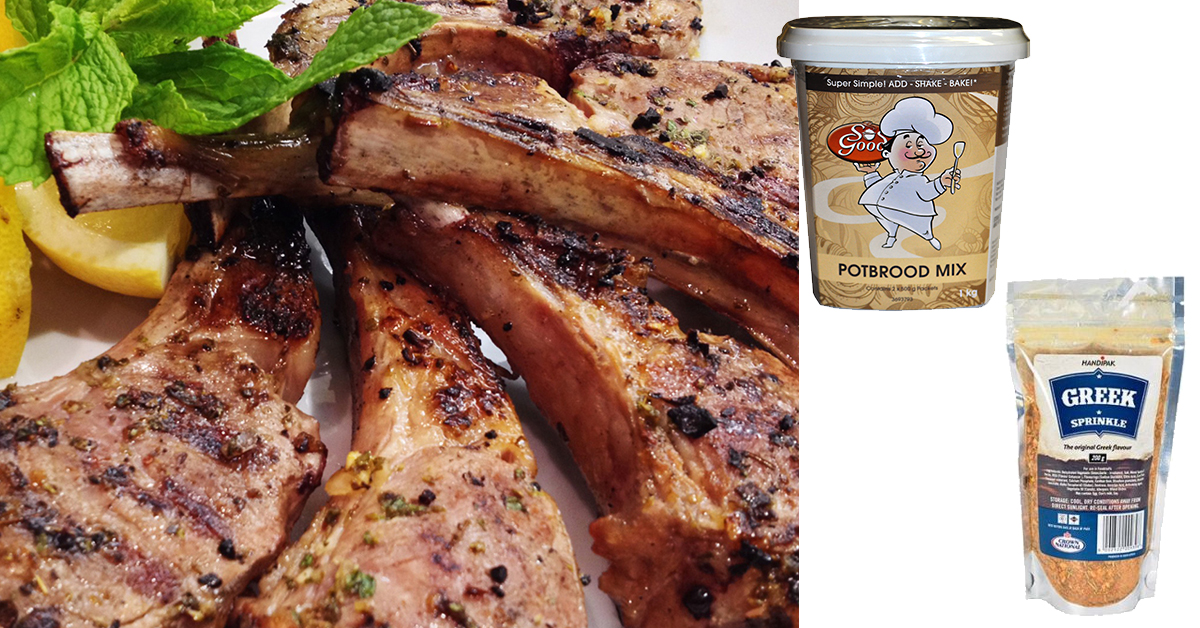 For the marinade
8 lamb rib chops (approx. 700g)
1/3 of a cup olive oil
50g CROWN NATIONAL GREEK SPRINKLE
1 tbsp fresh chopped rosemary (optional)
Juice of 1 lemon
salt and pepper to taste
Instructions
In a seal-tight container, add all the marinade ingredients. Add the lamb chops and rub the meat with the marinade. Cover and place in the fridge for a least 3 hours (if you have the time leave overnight).
On the braai or coals. Place ribs in a fold grid and either grill on medium to low coals while turning it over frequently. Or you can make what they call in Namibia "Skuinsrib" or "Staanrib". This simply means that the grid with the meat, stands next to the fire at an angle. This way the fat drips off and you have a crispier result.
NB – Just before you remove it from the grid or the oven, squeeze some lemon juice and a pinch of dried oregano over the meat and roast for another minute on each side. Serve this with a salad and fresh CROWN NATIONAL SO GOOD POT BREAD. Enjoy!
Greek Sprinkle Spice
Rosemary and garlic, black pepper and oregano, paprika and coarse salt make this seasoning suitable for lamb, chicken, beef or venison.
So Good Pot Bread is a fantastic product that lets you prepare fresh bread in a jiffy. You simply shake the pot bread mixture with water in the container in which the product is packed, and then you have dough that's right for the oven or black pot.